---
BRIEF DESCRIPTION:
"The CTLS is the newest EASA Type Certified evolutionary model of the Flight Design CT line of aircraft. Longer, lower and sleeker, the CTLS was designed specifically for the Light-Sport category and offers many features to improve comfort and performance.
Flight Design has conducted extensive customer research including questionnaires at leading air shows. Based on those results and the design opportunities allowed under the ASTM Light-Sport standards, the CTLS was developed.
The Flight Design development team has worked for more than 24 months on development of the CTLS and invested significantly in this evolved design.
Flight Design used industry specialists and advanced tools including full-scale wind tunnel testing in the Mercedes wind tunnel to further refine the new aerodynamic design. Next generation computer flight test systems were used to develop the flight dynamics in a first for the Light-Sport Aircraft industry.
Flight Design is committed to remain the leader in the Light-Sport Aircraft category. Employing progressive design concepts and modern safety know-how, Flight Design joins the latest engineering techniques and software to state-of-the-art materials.
The CTLS is an aircraft capable of flying non-stop from Chicago to NYC, Charlotte to Dallas, and London to Frankfurt or Munich to Rome… flights of 1,800 km (1,000 miles). The large comfortable cabin and excellent visibility of the CTLS makes all your flights more enjoyable and a better environment for learning how to fly." – Flight Design
---
Here at Zone Aviation we have 2 CTLS aircraft both with a Glass cockpit.
LIGHT SPORT -Flight Design – CTLS N15NK, N21ZA
Dynon avionics, Rotax 912ULS engine, BRS aircraft parachute, Garmin 696 GPS, and electric flaps!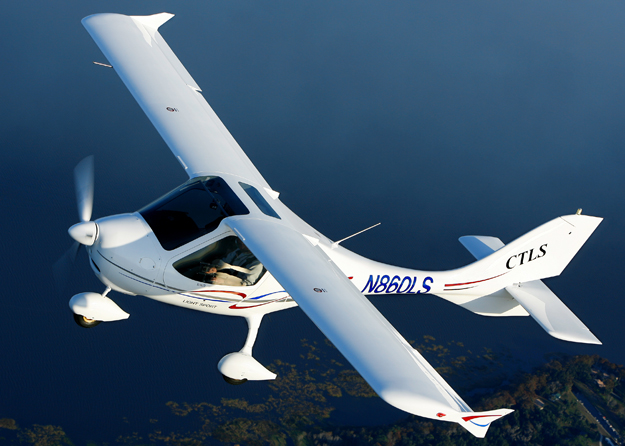 CTLS Specifications
Wing span: 28′ 2″
Length: 21′ 8″
Height: 7′ 8″
Wing area: 107 sq. ft.
Fuel capacity: 34 Gallons (33 usable)
Empty weight: 770 lbs.*
Max gross weight: 1320 lbs.
Useful load: 550 lbs.
Maximum range: 830 nm
*Weight includes: Glass panels, radios, intercom, GPS, night flight system, BRS 1350 HS parachute system.
Speeds / Performance
Vs0 – Stall speed (35° flaps) @ 1320 Lbs. – 39 KIAS
Vs1 – Stall speed (-6° flaps) @ 1320 Lbs. – 44 KIAS
Vno – Top Speed – 120 KIAS
Vc – Cruise speed @ 75% power – 115 KIAS
Vne – Never exceed airspeed – 145 KIAS
Vr – Rotation speed (15° flaps) – 42 KIAS
Rate of climb @ 1320 lbs. – 805 FPM
Maximum demonstrated crosswind component (0° flaps) – 16 KIAS
Takeoff distance @ 1320 lbs. – 800 ft.
Takeoff over 50ft obstacle @ 1320 lbs. – 1500 ft.
Landing over 50ft obstacle @ 1320 lbs – 967 ft.